Now you can enjoy cool open-air living all day long
Maximise Your Valuable Outdoor Space
Enjoy Work & Play in Balcony

Protect from Rain Splashes

Protect from Harsh Sunlight

Relaxed Dining in Balcony
Suitable for your Balcony, Patio, Terrace, Porch, Service Yard & more
Outdoor Blinds Introduction
Outdoor Blinds allow you to enjoy & relax in your outdoor space.
Here are two popular waterproof outdoor balcony blinds options.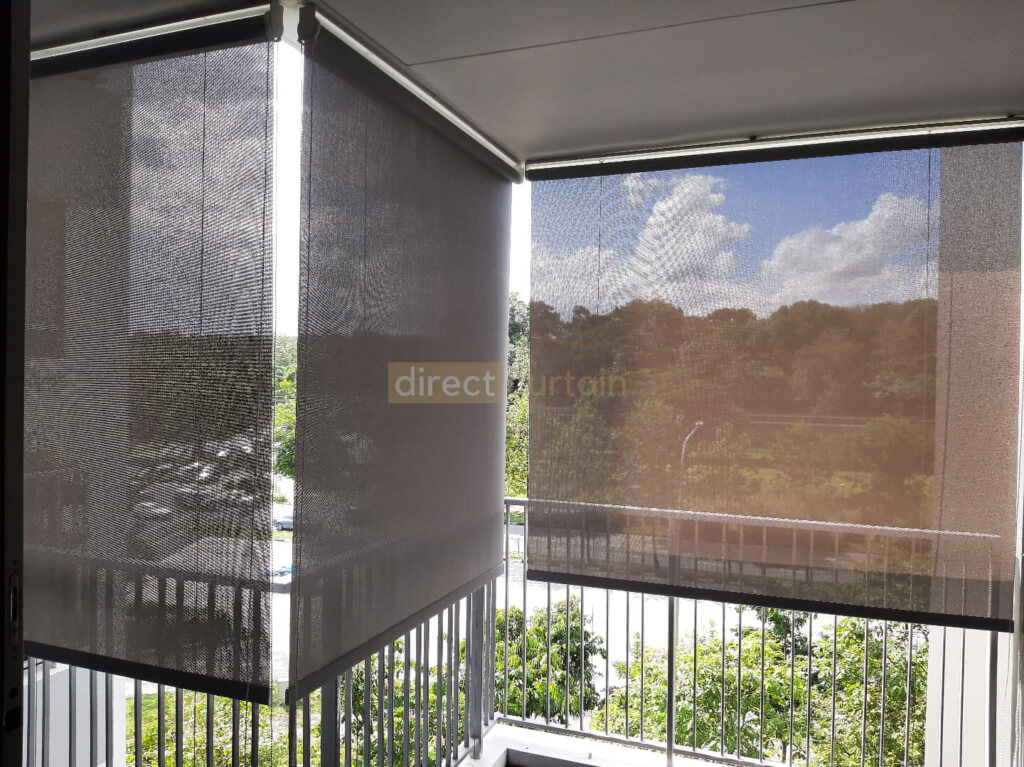 Outdoor manual roller blinds are normally used in the balcony or service yard to filter glare, reduce heat and rain splashes.
Zip Blinds extend your indoor living space and offer more protection to your outdoor balcony space. It block more rain and keep air-con cool air in.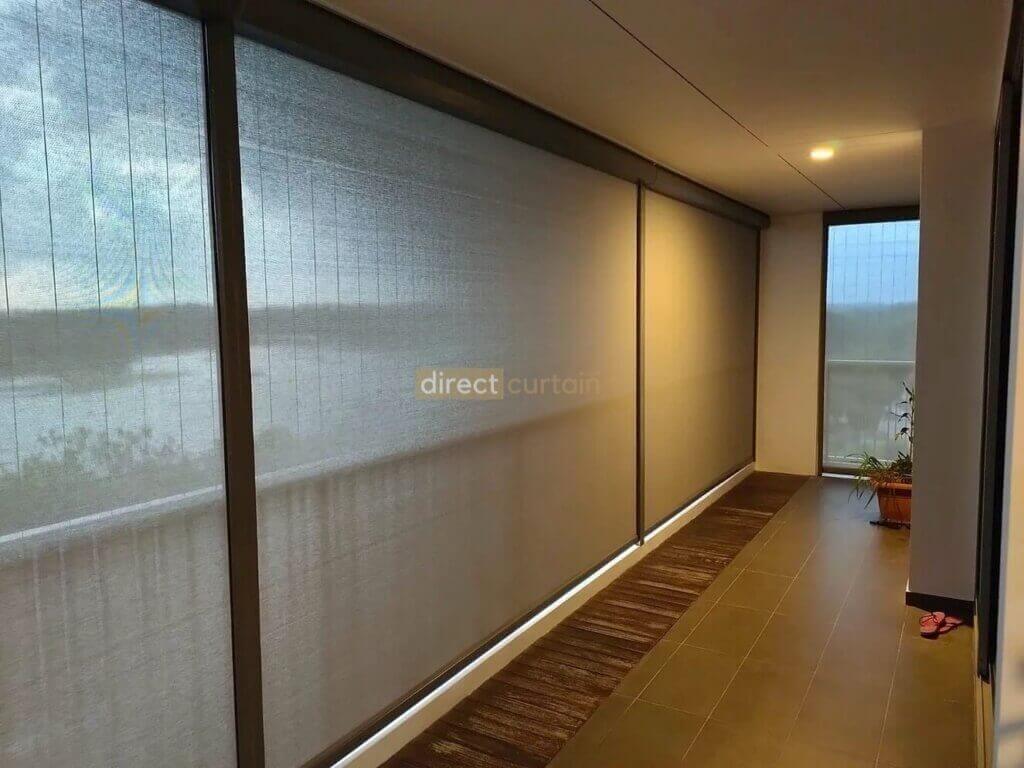 Which Outdoor Blinds is more suitable for your space?
Which type of Outdoor Blinds should you choose?
First, let us understand the basics of these outdoor blinds.
Outdoor manual roller blinds offer basic protection against heat & rain, and it require stainless steel cables (wind guides) to prevent it from flapping under strong wind. The blinds will form a "sail" if the wind is very strong.
Zip Blinds use side tracks to guide the blind rolling up or down. It offers a more modern, clean and sleek look as compared to the manual outdoor roller blinds. The zip track guides also help to seal up the gaps between blinds and can help zip blinds to offer more protection such as against insects or even keeping the cool air-con air in.
Having understood the types of outdoor blinds, the next important thing to consider is the intended usage of the balcony space. If there is nothing much going on there, then the basic outdoor roller blinds would be good enough.
However, if you wish to extend your indoor living space outwards into the balcony, then the Zip Blind is a worthy investment!
Important Notes on Outdoor Blinds
If you have not used Outdoor Blinds before, here are a couple of pointers to take note.
1. Light Blockage – Outdoor Blinds use perforated sunscreen fabrics to filter out the strong sun glare and heat. The fabrics have tiny holes and allow you to enjoy outside scenery view during daytime. The opposite happens as night falls, if you turn on your ceiling light, one can view inwards from the outside.
2. Rain Protection – Outdoor Blinds fabrics are perforated with very tiny holes, they can still block normal rain splashes well. But when the rain is very heavy and coupled with strong wind, rain water may still seep through the tiny holes. Please be mindful that Outdoor Blinds systems are not 100% watertight.
3. Width Limit – Generally, Outdoor Roller Blinds should be around 2m to 2.5m max width so as not to stress the system too much under strong wind conditions. Zip Blinds can go wider but subject to accessibility conditions.
4. Colour Selection – For condos with a MA, the colours would have already been determined by the management. Do check with them on the approved colour codes. They would have a sample in the office.
5. Power Point – A normal 3-pin socket power point is required for Zip Blind. Cable casing will be laid to the nearest point.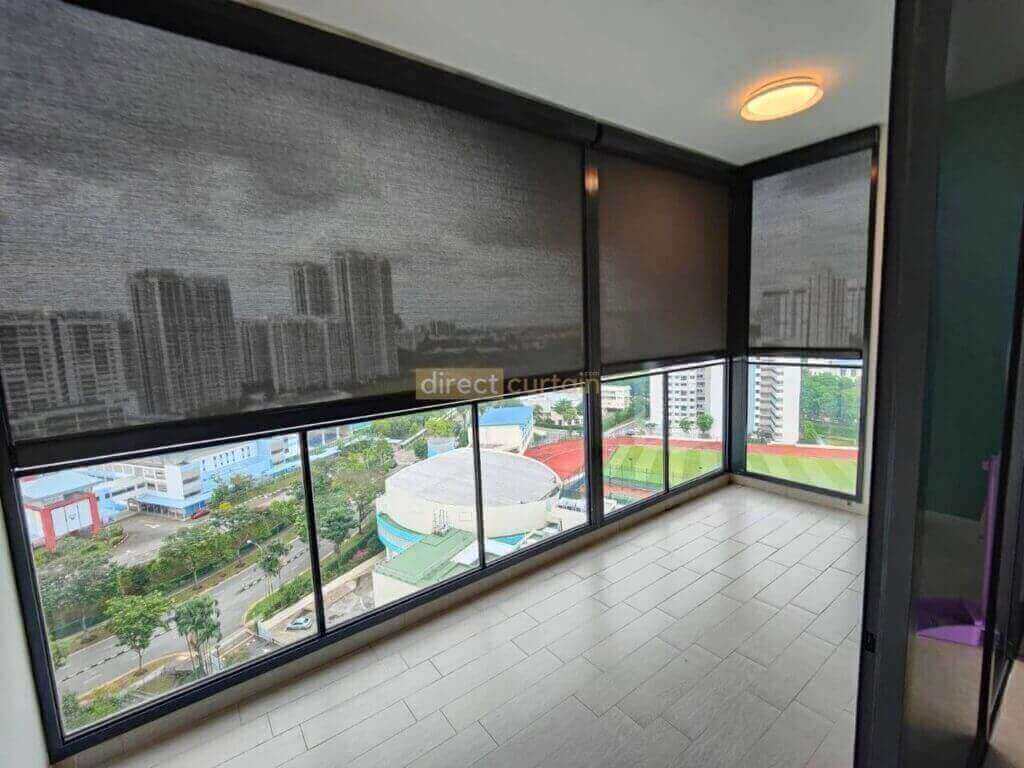 4 easy steps to get your outdoor blinds.
Verified client reviews from Google.
What our happy clients say.
Enjoy a customised Outdoor Blinds service experience.
We understand how frustrating it is to deal with an annoying salesman or a shady quote with hidden costs.

Home decor should be an enjoyable process. We have helped hundreds of homes to reclaim their outdoor spaces with Outdoor Blinds.

Put your mind at ease with us.
Be inspired by our Outdoor Blinds in real homes.
Clients like you have transformed their outdoor space & balconies with practical outdoor blinds.
View Outdoor Blinds Catalog
Explore fabric colours and options from the comfort of your own home.
Get an instant estimate with your rough measurements.