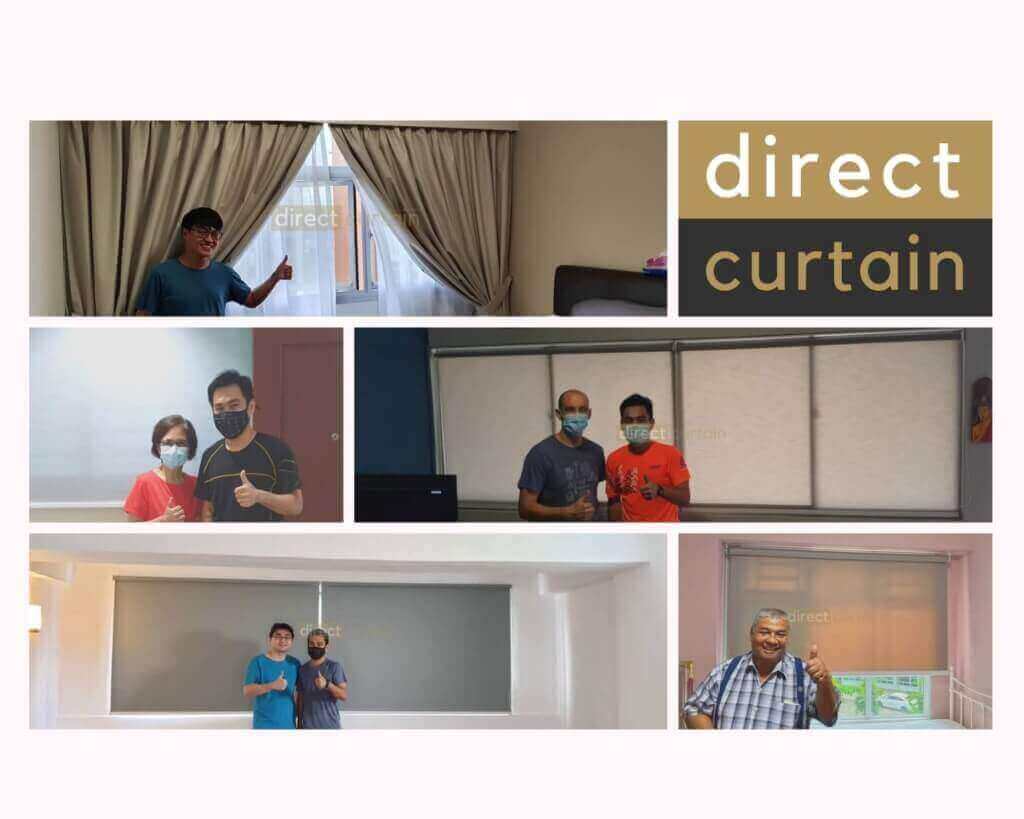 As a customer-oriented company, Direct Curtain had garnered hundreds of positive reviews in a short time.
We will like to shout out a big "Thank You" to our kind customers for their wonderful support. 
However, we will not rest here as we know that we are not perfect. We are always evolving and improving ourselves for our valuable clients like you.
In the below section, you will be able to read some of the testimonials shared by different customers on their curtains review, blinds review, roller blinds review, korean combi blinds review, venetian blinds review and more.
Came across Direct Curtain on Facebook and engaged them to install our curtain and roller blinds. Very happy with the fuss free service and prompt replies. The team is very professional and our curtain and blinds were installed nicely. Pricing is also very reasonable. Highly recommended for new home owners or those looking at installing curtains/blinds for their homes.

Zhi Wei, Chee

Curtains were beautifully done! I and my hubby absolutely adore them. Make sure to check all the available styles and colors against the windows glass and the color of the walls and windows frames.

Christina

Good job and very professionally done without any hassle. Good advice on material from Direct Curtain.

Tan
Awesome service from day one. Came across them while looking for blinds replacement in the office. Came in and saved the day even if its just for 3 blinds. Thanks everyone.

Huzie Jasni

The blinds installed are well done. Thank u for the fast & smooth transaction & of cos the excellent service rendered..👍👍 Good job to u, team!! Definitely recommending u to others..

AyLa Bohari
Korean Combi Blinds review
The whole process was fuss free and convenient to clients. Good quality of curtains and rainbow blinds, efficient installation too! Super good value for reasonable price 🙂

Katherin Huang

Appreciated the fuss-free service and prompt replies. The blinds were installed professionally by their team. Thank you!

Rachel Goh

Direct Curtain gave an awesome sales and it's after sales services. Love it's blinds and its varieties of choices. Thank you Direct Curtain for the lovely blinds that blends well with my unit interior.

Vivien Tan

Very good experience. Everything is well organised. Price is reasonable and blinds are good.

Ng Ngee Ping
The curtains and Venetian blinds which I ordered were fairly priced, accurately measured and tailored and skillfully installed. Last but not least they ensured that the systems installed were fully and smoothly operational before leaving the premises.

Joachim Kang

Engaged Direct Curtain for venetian blinds and curtains. The service provided was great and prices quoted were very competitive. Installation for 3 bedrooms and living room was completed within 2 hours and the quality of the blinds and curtains was good as well. Highly recommended.

YL Poh
Cindee Allister
2021-01-22T04:54:13+0000
We had blinds installed for a total of 14 windows and the pricing was very competitive with a super quick turnaround. Customer service has been amazing, from initial contact through to delivery & installation. The measuring &

...

inspection was detailed & precise, with any challenges highlighted to me for my solution decision. The blinds themselves are fantastic, great quality and completely blockout the light (beware, some other companies offer blackout blinds where the material actually lets the light in...) in an extensive range of colours. We are extremely happy with the purchasing experience and would not hesitate to recommend or use Direct Curtains again. Thank you!

read more
Lin Daa
2021-01-20T13:11:59+0000
I'm so happy with my sunscreen and blackout blinds even the installation was so perfect 💯that I couldn't believe it... 😁😁I didn't wait too long for the installation date too❤️ super fast! Hong and Team are very

...

knowledgeable on their products and they are so patient listening to my concerns till late night.... 🌚 They VALUE CUSTOMER SERVICE more than $$$$💰💰💰For those who are still deciding.. look no further... U WILL NOT REGRET 😎😎 HIGHLY RECOMMENDED 💁🏻‍♀️

read more
Kg Lee
2021-01-12T03:24:16+0000
I recommend Direct Curtain for reasonable price, fast and friendly service, very experienced installer. No mistake to use them.
Julianto Cahyadi
2021-01-10T08:57:01+0000
Very good costumer service provided by Hong and his team from Direct Curtain. Hong provided quick and satisfactory responses throughout the whole process. The delivery and installation team did a good job too. Very happy and pleased

...

with the final products! Well done and keep it up! 👍

read more
Serene Yeo
2021-01-01T02:49:36+0000
Good customer service throughout and the turn around time was prompt too. Curtains were beautifully done and price wise, very reasonable! With the blackouts curtain now, my family sleeps better now without being woken up by the

...

morning sun! Do support local! Good purchase!

read more
Hasni Hatbi
2020-12-31T08:36:18+0000
Very prompt & efficient service by both Hong & Edward. Good quality blinds & affordable. Highly recommended. Keep up the excellent service Direct Curtain.
Jia Yan Ng
2020-12-29T15:26:22+0000
Visited Direct Curtain showroom after reading many great reviews. Hong is very responsive and took time to patiently explain the different types of blinds and curtains available. He has great product knowledge. It was a comfortable

...

experience with no hard selling.Pricing is transparent as shown on the website. Highly recommended!

read more
Suxian Seow
2020-12-22T01:55:45+0000
Good price, good service, good quality. Really very effortless in dealing with them, highly highly recommend!
Doris Tay
2020-12-03T14:46:57+0000
Patient and nice seller despite us asking many questions. Strongly recommend Direct Curtain and will patron again! 🙂
Kaiqi Hayley
2020-11-19T14:12:43+0000
Great service from Hong and team! Helpful, fuss free and very reasonable prices. Curtains turned out exactly as we wanted it.With the right vendor, home reno is a breeze! Thanks guys 🙂
Next Reviews
[grw place_photo="https://directcurtain.com/media/2020/05/direct-curtain-singapore-logo-frame-no-bg.png" place_name="Direct Curtain (By Appointment)" place_id="ChIJDYpbHo4X2jERPw4V2gwNkpw" reviews_lang="en" pagination="5" text_size="120" max_width="300" refresh_reviews=true hide_reviews=true centered=true lazy_load_img=true reduce_avatars_size=true def_reviews_link=true open_link=true nofollow_link=true]