Direct Curtain Review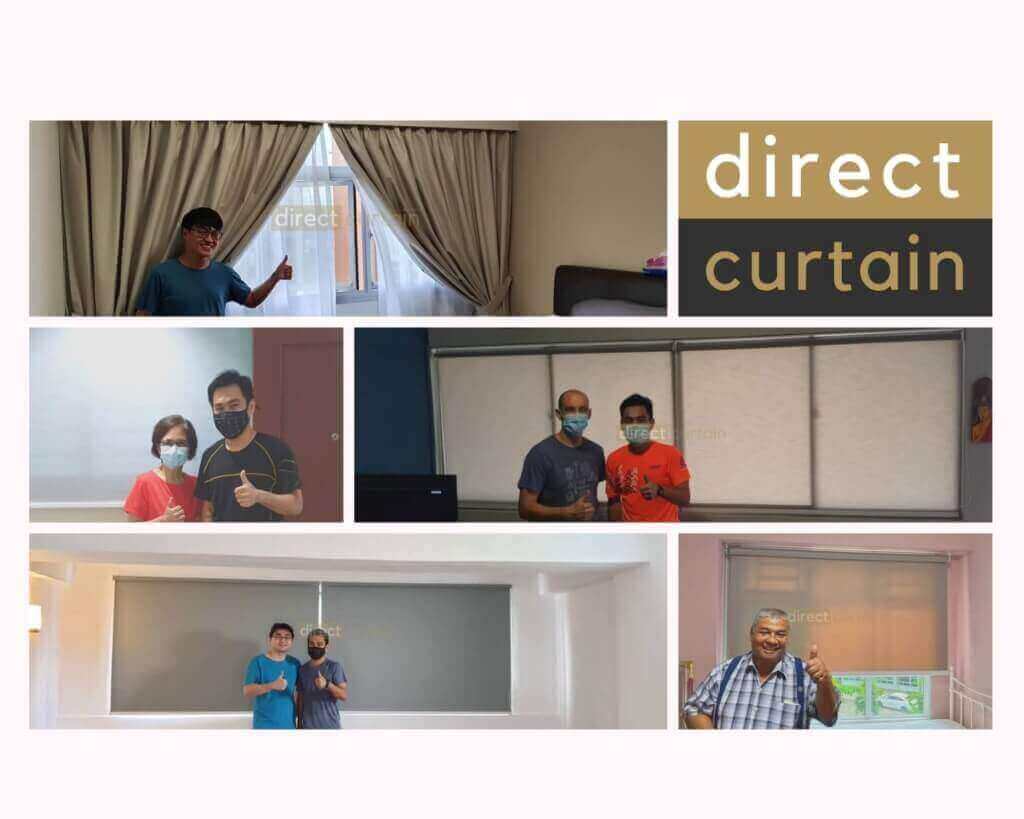 As a customer-oriented company, Direct Curtain had garnered hundreds of positive reviews in a short time.
We will like to shout out a big "Thank You" to our kind customers for their wonderful support. 
However, we will not rest here as we know that we are not perfect. We are always evolving and improving ourselves for our valuable clients like you.
In the below section, you will be able to read some of the testimonials shared by different customers on their curtains review, blinds review, roller blinds review, korean combi blinds review, venetian blinds review and more.
Curtains review
Came across Direct Curtain on Facebook and engaged them to install our curtain and roller blinds. Very happy with the fuss free service and prompt replies. The team is very professional and our curtain and blinds were installed nicely. Pricing is also very reasonable. Highly recommended for new home owners or those looking at installing curtains/blinds for their homes.




Zhi Wei, Chee




Curtains were beautifully done! I and my hubby absolutely adore them. Make sure to check all the available styles and colors against the windows glass and the color of the walls and windows frames.



Christina




Good job and very professionally done without any hassle. Good advice on material from Direct Curtain.




Tan



Roller Blinds review
Awesome service from day one. Came across them while looking for blinds replacement in the office. Came in and saved the day even if its just for 3 blinds. Thanks everyone.



Huzie Jasni




The blinds installed are well done. Thank u for the fast & smooth transaction & of cos the excellent service rendered..👍👍 Good job to u, team!! Definitely recommending u to others..




AyLa Bohari



Korean Combi Blinds review
The whole process was fuss free and convenient to clients. Good quality of curtains and rainbow blinds, efficient installation too! Super good value for reasonable price 🙂




Katherin Huang




Appreciated the fuss-free service and prompt replies. The blinds were installed professionally by their team. Thank you!




Rachel Goh




Direct Curtain gave an awesome sales and it's after sales services. Love it's blinds and its varieties of choices. Thank you Direct Curtain for the lovely blinds that blends well with my unit interior.




Vivien Tan




Very good experience. Everything is well organised. Price is reasonable and blinds are good.




Ng Ngee Ping



Venetian Blinds review
The curtains and Venetian blinds which I ordered were fairly priced, accurately measured and tailored and skillfully installed. Last but not least they ensured that the systems installed were fully and smoothly operational before leaving the premises.



Joachim Kang




Engaged Direct Curtain for venetian blinds and curtains. The service provided was great and prices quoted were very competitive. Installation for 3 bedrooms and living room was completed within 2 hours and the quality of the blinds and curtains was good as well. Highly recommended.




YL Poh



Apple Yap
2022-01-12T04:11:52+0000
Very good after-sale service. The whole process of getting my new curtain and blinds was painless. Thank you Edward and Direct Curtain team!
Derek Lo
2021-12-11T07:16:48+0000
Great service and installation👍
Dee Ross
2021-12-09T10:29:35+0000
We fell in love with the Venetian Blinds from Direct Curtain after extensive research for a good blinds company online.The site survey was a swift one; we'd like to thank your staff for waiting on us when we ran a little late. After

...

the measurements, we were happy with the cost and decided to proceed with the order.The installation today was also fast, the blinds looked amazing in our living room and home office. And of course, your staff was excellent in explaining to us on the how tos. Strongly recommended & we hope to engage you guys once again next for our bedrooms! 😊

read more
Lynn Ng
2021-12-02T01:13:23+0000
The Boss of the Direct Curtains was very knowledgeable and friendly. I like that even before you go down, as long as you provide a floor plan they will promptly send you a professional PDF quote based on your requirements. When we

...

went down to the shop, we decided to get the newer system venetian blinds as it only has one pulley for opening/closing as well as maneuvering the blinds up and down, which saves us a lot of trouble trying to untangle the strings as we did with our older blinds. The installer, Edward, was on time, extremely precise and efficient. He confirmed with me on my requirements before deciding on the height to install my blinds, as I had just fixed up my shoe cabinet and it would get in the way of the blinds. Not to mention that he was very friendly and assisted me with my questions on the operations of the blinds.All in all, I would describe my experience with them as smooth, prompt, efficient, friendly and extremely fuss free. Highly recommend to anyone that's considering to have their curtains/blinds done to give this shop a try. Thanks once again!

read more
Tan Ke Jie
2021-11-29T11:47:12+0000
I bought my windows blinds and curtains from Direct Curtain in Dec 2020. Direct Curtain was very professional. I remembered when we first visit Direct Curtain showroom, Hong was very welcoming and gave us a brief introduction of

...

curtains and blinds. After we confirmed the order with Direct Curtain, Hong helped us to expedite the installation of the curtains. They came and install what can be installed first. Direct Curtain did not mind coming for a few trips for their customers. When my curtains and blinds were first installed, I witnessed the transformation they brought to my home. I was very impressed with how the curtains and blinds changed the feel of my home. Because of Direct Curtain's curtains and blinds, we feel much more homely at home and they gave us a good sense of privacy. I appreciate Direct Curtain's efforts and hard work through out the process. Thank you, Hong! I will definitely recommend Direct Curtain!👍

read more
Diana Ho
2021-10-21T03:39:26+0000
Needed to add on day curtains to the existing curtain setup in the guest bedroom. The process from getting an online quote to placing order, making payment and arranging for installation schedule was a breeze. Super convenient, fast

...

and efficient. Installer came and got the new track up in less than 15mins. Material of the day curtain is accurate against the photo on the online catalogue and quality not only looks great but feels great. Highly recommend and will definitely use Direct Curtain in future.

read more
H Ru Mah
2021-10-18T04:14:51+0000
Very smooth transaction, Edward is very detailed in explaining on site and address my concerns on fixing blinds. Definitely recommended!
Siti K Basir
2021-09-25T02:48:12+0000
Direct Curtain offered awesome service from consultation to installation. The team is very friendly and was patient throughout. Would definitely recommend Direct Curtain for the professionalism and reliability 😊👍🏻👍🏻👍🏻
Michelle Lim Bee Bee
2021-09-20T10:31:04+0000
Hong and Edward were great, made the whole experience and process very smooth and they were v quick to respond to all my requests 🙂 prices are reasonable too! Thanks to them, I have beautiful blinds now 🙂
Jason Lee
2021-09-17T04:05:33+0000
Prompt and professional service from Direct Curtain amid this Covid period. Definitely check them out if you are shopping for curtains. I opt for Korean combi curtains and must say they 'brighten' up my mundane room.
Next Reviews
All these reviews are verified and publicly available on our Google and Facebook pages. Click on them to view more sharing by our delighted customers!