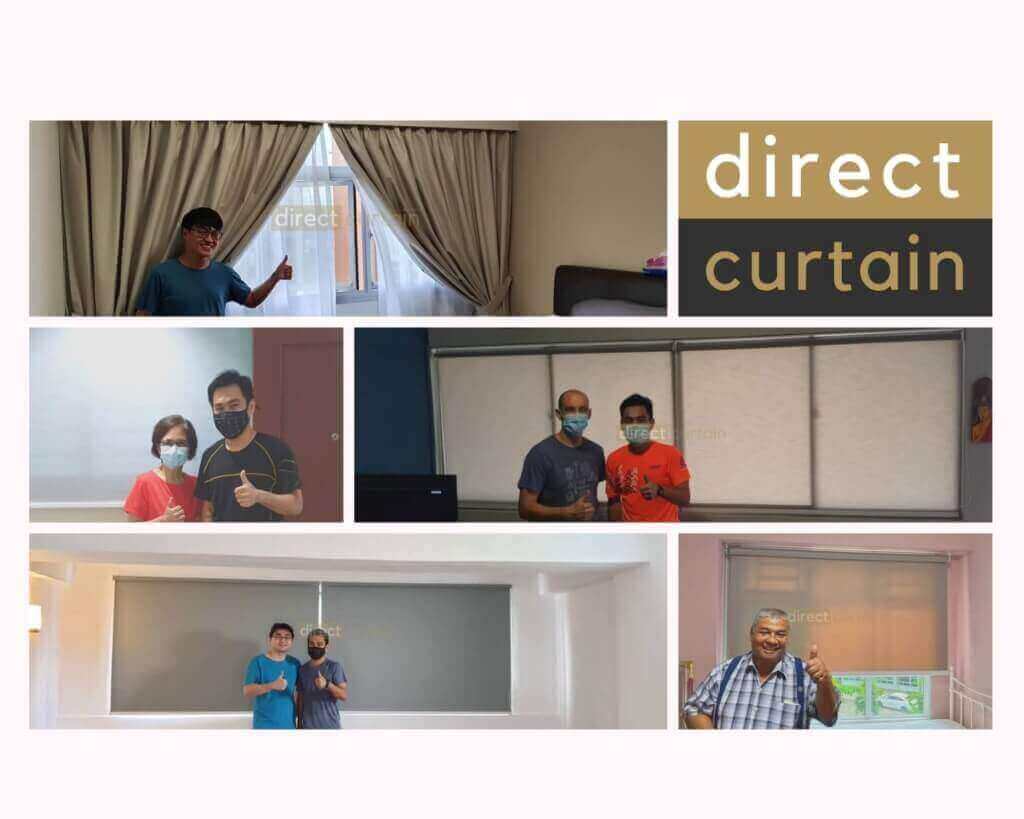 As a customer-oriented company, Direct Curtain had garnered hundreds of positive reviews in a short time.
We will like to shout out a big "Thank You" to our kind customers for their wonderful support. 
However, we will not rest here as we know that we are not perfect. We are always evolving and improving ourselves for our valuable clients like you.
In the below section, you will be able to read some of the testimonials shared by different customers on their curtains review, blinds review, roller blinds review, korean combi blinds review, venetian blinds review and more.
Korean Combi Blinds review
Siti K Basir
2021-09-25T02:48:12+0000
Direct Curtain offered awesome service from consultation to installation. The team is very friendly and was patient throughout. Would definitely recommend Direct Curtain for the professionalism and reliability 😊👍🏻👍🏻👍🏻
Michelle Lim Bee Bee
2021-09-20T10:31:04+0000
Hong and Edward were great, made the whole experience and process very smooth and they were v quick to respond to all my requests 🙂 prices are reasonable too! Thanks to them, I have beautiful blinds now 🙂
Jason Lee
2021-09-17T04:05:33+0000
Prompt and professional service from Direct Curtain amid this Covid period. Definitely check them out if you are shopping for curtains. I opt for Korean combi curtains and must say they 'brighten' up my mundane room.
Penny Mah
2021-09-11T10:39:59+0000
Eric Ng
2021-09-05T05:16:23+0000
Patient and helpful to help in selection meeting our budget and needs.
Shirley Loh
2021-09-04T13:48:28+0000
If you are looking for curtains or blinds, look no further! I found Direct Curtain from Mr. Google and was thoroughly impressed by the service and the quality of work from them. Hong was very helpful and made sure I understood what I

...

am in for when I changed my curtains to wooden blinds. He took the trouble to run through the pros and cons of the various materials and gave me time to consider. I did not feel pressured into making a decision and I really appreciate that. As a result, I love the blinds and they spruced up my house!

read more
Rahman Rahim
2021-08-19T03:32:38+0000
Very Satisfied with the service provided team from Direct Curtain. Hong and the team were very helpful in assisting us on finding the colour that we wanted. And also thanks to edward for delivering and installing the curtain for us,

...

and making sure everything is well and neatly done.Thumbs up and highly recommended

read more
Lisa O'Beirne
2021-08-05T04:52:51+0000
Very happy with the ease of selecting and ordering my curtains online. Great online/messenger help if required and quick to respond and update during the process. They arrived quicker than expected and looked as good as expected. The

...

installer was on time, efficient and friendly. Great product, easy, good price and fantastic customer service. Highly recommend and would use again. Wonderful local company.

read more
Gwee Ye Zhao
2021-07-26T07:39:04+0000
Friendly and approachable staff! issues with the blinds were rectified swiftly! highly recommended!
杨婉琦
2021-07-14T13:27:47+0000
The team at Direct Curtain is very prompt and super helpful. I found them via google and loved that they are super open with their prices. I could quickly get an estimate on what I required and going to their showflat was also very

...

informative. The blinds are of good quality and the installation was quite fast. It was also not dusty at all. Great service and product 🙂 would highly recommend.

read more
Next Reviews